Our Bed & Breakfast Rooms in the Daintree Rainforest
Bed & Breakfast Rooms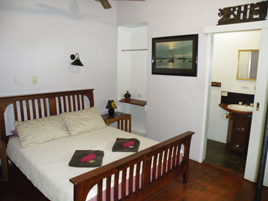 The Epiphyte Bed and Breakfast (near Cape Tribulation in tropical North Queensland) has a variety of rooms including single, standard double from $80/single and $110/double. Also two large rooms perfect for couples or twins who like more space but also suitable for family groups. All rooms have private balconies and en-suite bathroom/toilet. Prices include a delicious tropical breakfast.
The Golden Orchid Retreat - Cabin Accommodation
This gorgeous cabin comprises a bedroom with cathedral roof and balcony and is equipped with a queen-size bed and a double bunk bed plus a large en-suite toilet and shower. There is also a large living/dining space with tea/coffee facilities and a small fridge. A gravel pathway through the forest connects the cottage to a rotunda from where guests can marvel at spectacular sunsets, take in the awesome dawn chorus of birdsongs, do yoga or meditation or simply relax. Guests are welcome to use the main kitchen of the Epiphyte for breakfast and other meals or can have breakfast in the privacy of the retreat. Suitable for couples, twins, triples or small family groups (maximum 2 children) the Golden Orchid Cottage is an unforgettable place from which to experience the magic of the Daintree.
Refreshments

Tea and coffee (including a large variety of herbal teas) is available from the kitchen at all times and the kitchen is available for the preparation of lunches. Breakfast, included in the tariff, includes a wide range of cereals and tropical fruits as well as toast and homemade jams, tea and coffee. This is available at your convenience any time after 6.30 am. For night-time meals a number of local restaurants, a backpackers and the hotel all provide inexpensive and tasty dishes.
Entertainment

The Epiphyte's front verandah provides a fantastic view across the forest to the Thornton Range but for those who wish to do more than just survey the world from a distance there is an interesting library of books, a great CD collection and a number of videos and games available. Internet access is available by arrangement.
Surrounded by Nature

The Epiphyte grounds are also extensive and contain a wide range of tropical fruit trees (used for breakfast) as well as dense tropical rainforest, palms and a creek. Numerous rainforest animals inhabit the nearby forest including cassowary (a large and beautifully coloured flightless bird), tree kangaroos, paddymellon (a small kangaroo-like animal), anticinus (hopping mice) and feral pigs. A huge variety of birds is also present and the "dawn chorus" is unforgettable.
Relax

A small 'rotunda' is situated on a high point of the property providing a wonderful place for contemplation and a cup of tea as well as a superb viewing spot for the often spectacular sunsets. It is also available for yoga or meditation.
Environmentally Friendly

We operate entirely on solar power and mostly on rainwater so we try to conserve power and water. This just means turning off lights and ceiling fans when not in use, using half-flush on toilets and keeping showers to reasonable times. Please feel free to use appliances in your room but if it requires more than 800 watts ( e.g. a hairdrier) please check with us first.
Recommendation
If you are planning on spending a day or two in Cairns during your stay, the Gray Whale Anchor Inn has very comfortable self-contained apartments very close to the centre of town but in a lovely quiet location from $50/night.
You can phone Lima
within Australia
(07) 4051 9249
international
[61] 7 4051 9249
or ask me for more information when you book.