About The Daintree Rainforest Region
Daintree Ferry Crossing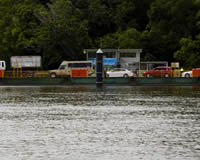 The Daintree Rainforest is located 110 kilometres north of Cairns, immediately across the Daintree River. Do not be confused by the terminology, as 'Daintree ' is used very broadly. There is frequent reference to the Greater Daintree National Park (stretching from Mossman Gorge to Bloomfield River) and Daintree Village, about 12 km upstream from the ferry crossing, on the south side of the river. But there is only one Daintree Rainforest that can actually provide the undisputed evidence of the oldest surviving rainforest in the world at the meeting place of two World Heritage areas.
Cow Bay
There are a number of beautiful beaches within a 30 minute drive of the Epiphyte B & B including three accessible from the main Cow Bay Beach itself, Thornton's Beach, Noah Beach, Coconut Beach, Myall Beach and Cape Tribulation Beach. Rainforest reaches to the edges of all these sandy tropical beaches and most have patches of fringing reef just offshore for those keen on snorkling or fishing.
Cape Tribulation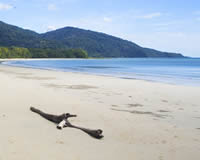 Cape Tribulation is located 35 kilometres north of the Daintree River, and is usually the turn-around point for most day-visitors to the Daintree Rainforest, as 4WD is needed to continue further north.
In 1770, Captain Cook was sailing northward up the east coast of Terra Australis, charting the coastline. Undoubtedly distracted by the awe-inspiring, rainforest-clad beauty of the majestic landscape, he struck the Great Barrier Reef. In his dispair, he named the most prominent peak Mt. Sorrow and the nearest headland 'Cape Tribulation'.