Daintree Rainforest Tours and Activities
"We are happy to make any bookings for you on arrival at The Epiphyte. All tours are the same cost to you whether you book direct with the operator or book through us on arrival or through these pages. If you wait until arrival we can give you more information about each tour and how it may suit your interests...also we can let you know what the weather is likely to be. In addition, if you book through us (personally or through this page), we get a small commission which helps us keep our accommodation prices down. So THANK YOU in advance!"
Cooper Creek Wilderness Tours
Lot 52 Cape Tribulation Road, Cooper Creek, QLD
Cooper Creek Wilderness occupies the centrepiece of the last remnant of the oldest-surviving rainforest in the world. A Gondwanan rainforest relict that has survived more than 135-million years, where ancient plants like the "green dinosaur" remain as living proof of its persistence over the millenia. Containing the most extensive remnant populations of primitive angiosperms (flowering plant families) in the world, Cooper Creek Wilderness occupies the epicenter of this refugial treasure and is ideally positioned to showcase World Heritage values to visitors from around the world, through a variety of unique experiences:
Crocodylus Guided Night Walk
Lot 5 Buchanan Creek Rd, Cow Bay, QLD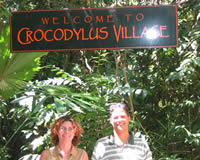 Join our guided night walk through the amazing and unique Daintree rainforest. Have the dynamics of this unique forest containing some of the most ancient surviving plant species on the planet explained. Learn all about bush tucker, medicines and poisons. See the rainforest come alive at night with bizarre and fascinating creatures. Torches are provided, as well as raincoats if needed.
Daintree Discovery Centre
Cnr Cape Tribulation Rd & Tulip Oak Rd, Cow Bay, QLD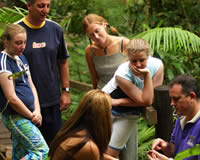 A world class ecotourism facility nestled in the heart of the Daintree Rainforest.
Located 10kms north of the Daintree River Ferry, the multi-award winning Centre allows visitors to enjoy the rainforest at every level — from the forest floor to the upper-most reaches of the canopy.
Jungle Surfing
24 Camelot Close, Cape Tribulation, QLD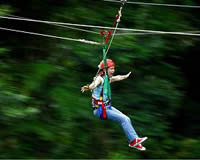 Jungle Surfing Canopy Tours are unique rainforest tours where your feet don't touch the ground. Fly through the trees on flying fox ziplines, stopping at 5 tree platforms to take in spectacular bird's eye views over the treetops, down to cascading streams and out to the Great Barrier Reef.
Safe, fun, fully guided and with no experience necessary - an adventure activity for all ages.
Open 7 Days - 8 Tours Daily - Bookings Essential.
Cape Trib Horse Rides

The only horse riding available in the Cape Tribulation area, we cater for beginners, intermediate and experienced riders on a group of very friendly and well trained horses.
Mason Tours
3781 Cape Tribulation Road, Cape Tribulation, QLD

Cape Tribulation and Daintree Rainforest Day and Night Jungle Walks and 4WD Safaris up the famous Bloomfield Track and to historic Cooktown, with Mason's Tours experienced local guides providing expert commentary.
Cape Trib Fruit Farm Tours
Lot 5 Nicole Drive, Cape Tribulation, QLD

A unique opportunity to taste ten different rare tropical fruits from the Amazon, Caribbean, Africa, and Borneo. BOOK ONLINE AND SAVE $2 PER PERSON.